Taupo to Napier
The road from Taupo climbs high onto the plateau crossing the Ahiminawa Range before arriving onto the Pacific Coast just north of the worlds finest art deco city of Napier.
Napier, the city by the sea, is renowned for its 1930s Art Deco architecture, events such as the Art Deco Weekend in February, stately Norfolk pines, surrounding wineries and local fresh produce. Supported by a Mediterranean climate and over 2,200 hours of sunshine a year this popular year-round destination boasts a vibrant cafe culture amongst the splendour of the Art Deco buildings. Around 30 cafes are within walking distance of the central city area, while Ahuriri, just over Bluff Hill, is home to a further cluster of up market establishments. Marine Parade overlooks the Pacific Ocean and out towards Cape Kidnappers, home to the world's largest mainland gannet colony. A full day can be taken visiting Ocean Spa hot pools and swimming complex, the Hawke's Bay Museum and the National Aquarium of New Zealand.
A landmark of Napier is Bluff Hill, which is home for many Napier residents and provides views of the town,  beaches of Perfume Point and Westshore and out towards Whirinaki. Bluff Hill also overlooks the Port of Napier, one of New Zealand's busiest ports, transporting timber, local fruit and meat products to worldwide destinations.
In 1931, New Zealand's greatest natural disaster struck Hawke's Bay. At 10.47am on Tuesday February 3rd, an earthquake of magnitude Richter 7.8 struck. In a minute and a half, in two separate shocks, the centre of Napier was almost totally destroyed. Fires quickly broke out and reduced to ashes or gutted what the tremors had left standing. Damage in Hastings was also devastating, although the fires were contained. Wairoa and the smaller towns to the south as far as Dannevirke were affected. There were 258 deaths - 162 in Napier, 93 in Hastings and 3 in Wairoa along with many injuries. The reconstruction of Napier and Hastings were costly but the benefit was two modern cities and the Ahuriri Lagoon, or Inner Harbour as it was usually known, was raised over 2 metres, creating the land, which Napier desperately needed to expand.
The Farm at Cape Kidnappers
With spectacular panoramic views of the Pacific Ocean, nestled among 6,000 acres of rugged coastal farmland, The Farm at Cape Kidnappers offers a multitude of activities within a five-star luxury setting. Offering many comfortable spaces to relax and unwind, including an intimate snug, stylish lounges, outdoor conservatory areas - there is no better way to take in this picturesque landscape.
Choose from a range of leisure facilities such as: a heated infinity pool and jacuzzi, spa treatments with beautiful forest and ocean views, a world class golf course and clubhouse and a fully equipped gym, offering yoga, pilates, golf specific fitness and personal training.
The Farm is also home to some of the best trails in the north island, from independent forest walks to ocean stroll or guided farm tours - pack a picnic and set off on an afternoon of outdoor fun. Also on offer are mountain, bikes, quad bikes and horse treks for the more adventurous traveller.
Your accommodation: The Farm at Cape Kidnappers
Located in Hawke's Bay, one of New Zealand's most important wine districts, Cape Kidnappers has a rich history. The Farm is a five-star experience set on a 6,000-acre sheep and cattle farm which encompasses land reminiscent of Montana but plunges 800 feet straight into the sea. A championship golf course designed by Tom Doak is just one reason to experience The Farm.
Meals included: Breakfast, Dinner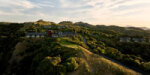 Driving distance and time (approximate) for this driving leg is: 137 kms / 85 miles : 1.7 hours