Franz Josef to Arthur's Pass National Park
Driving north on State Highway 6 you pass through many small West Coast towns. Hari Hari is the township that Guy Menzies decided to land in (or rather crash land) as he became the first person to fly solo across the Tasman. Ross is the site of an old gold mining town and some of the old buildings remain. You can even pan for gold. The craft and gift stores in Hokitika are excellent with a great range of locally made items and if you want to explore further here then the Hokitika Gorge is worthy of a detour.
State Highway 73 is the main road between the West Coast and Christchurch and the scenery is spectacular - even in the rain - and there is pretty good chance of rain in the high alpine mountains. With hundreds of waterfalls cascading down the bush clad hillsides it's not a road to be rushed. Originally the road was a pass used by Maori as they made their seasonal passage to look for the greenstone abundant in the West Coast mountains. When the gold rush hit the West Coast in the late 1800's then a road was quickly developed and not soon after the train. Today the main use for the track is transporting coal to Lyttelton Harbour but once a day the now world famous Tranz Alpine Scenic Train takes a few hundred tourists and visitors between the two oceans.
The Otira Gorge on the Western side of Arthur's Pass features a remarkable piece of engineering with the road passing high on a viaduct through this large valley. This is a recent addition to the route as the old road was washed away in a rock fall a few years ago. There are numerous lookout points giving great views of the valley and its engineering feat but watch out for the local residents, the kea. this bird is the worlds only alpine parrot and can be extremely cheeky.
Arthur's Pass Township is bustling place in the peak season with many walkers and adventurers using it as a base for the forays into the mountains of Arthur's pass National Park. The Department of Conservation centre here has an excellent display of the local history and is a great source of information for the many short walks in the area.
Explore Wilderness Lodge, Arthur's Pass
Nestled in mountain beech forest, midway between Christchurch and the West Coast, Wilderness Lodge Arthur's Pass offers stylish accommodation, great food and warm hospitality in a spectacular mountain setting.
Set on a 4000 acre working sheep farm and nature reserve in the heart of the Southern Alps, a daily programme of guided activities will be the highlight of your visit. Join naturalist and farmer guides to hike alpine trails, kayak wildlife refuge lakes and experience life on a working farm.
Complimentary Guided Activities
Twice daily complimentary guided trips provide a wonderful introduction to the wildlife, landscapes and history of the Southern Alps. Some of the trips include:
High Country Sheep Farm Discovery: Join a guide to watch sheep dogs in action, handfeed lambs, see traditional blade shearing and learn about growing merino wool for the fashion industry. This trip happens every second afternoon and is a highlight for many guests
Birds and Special Plants of the Mountain Beech Forest: Explore with a naturalist guide and learn the secrets of these remarkable moss forests surrounding the lodge
McKay Moa Forest Adventure: Visit a special nature reserve on the Wilderness Lodge farm. Take in spectacular mountain scenery, see bizarre 'moa plants' and learn their fascinating history.
Stars of the Southern Night Sky: A gentle stroll after dinner to see the starry night sky. Identify planets, satellites and constellations including the Southern Cross.
Longer Charged Guided Activities
Upper Otira Glacier Adventure: A superb challenging summer hike. Climb high into a glacial basin and enjoy mountain panoramas, alpine flowers, cascades culminating in a mountain picnic below Mt Rolleston.
Limestone Castles & Easy Kayaking: A relaxed guided tour/walk to a landscape made famous by the Narnia film 'The Lion, the Witch & the Wardrobe'. Paddle a gentle mountain lake and enjoy lunch amongst natural limestone castles.
Southern Alps Mountain Hike: Traverse beech forest to open mountain tops high above the Waimakariri River. Learn about alpine plants and enjoy lunch at a historic hut which once sheltered shepherds when this area was part of the Wilderness Lodge farm, now Arthur's Pass National Park.
Wonderful Waterfalls of Arthur's Pass: A special trip for waterfall and photography enthusiasts. Visit waterfalls and cascades throughout Arthur's Pass National Park and explore 'bonsai' mountain beech forests. Picnic beside a mountain stream.
Self-Guided Activity Options
Explore a 30km network of forest, farm and mountain walking trails. You hosts can provide maps and suggestions and you may like to order a picnic lunch
Explore neighbouring Arthur's Pass National Park on your own.
Relax in peace and tranquillity and take in the spectacular mountain scenery
Your accommodation: Wilderness Lodge, Arthurs Pass
Wilderness Lodge sits on it's own 3,000-hectare nature reserve and merino sheep farm and is surrounded by the mountains of Arthur's Pass National Park. Join nature guides to walk, canoe and discover kea parrots, giant buttercups, pygmy forests, alpine flower gardens and waterfalls.
Meals included: Breakfast, Dinner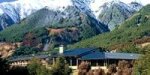 Driving distance and time (approximate) for this driving leg is: 233 kms / 145 miles : 2.8 hours